D3.K2 Delivers The Results You Want in Every Serving
Unfortunately, many other vitamin D and K supplements don't contain enough of either vitamin to actually benefit your health. Our advanced D3.K2 Complex contains effective, therapeutic amounts of both D3 (5000 IU) and K2 (80 mcg) all in a once-a-day dose.

A Synergistic Powerhouse
to Promote Calcium Absorption
If you're like the millions of Americans with low levels of vitamin D, there's a good chance the calcium you take in isn't always fully absorbed by your bones. When calcium isn't absorbed, it can make its way into the bloodstream and your arteries. D3 and K2 work synergistically to to deliver calcium to your bones.
Vitamin D3 (5,000 IUs)
Our high potency Vitamin D3 contains the same form of vitamin D (cholecalciferol) made by our body through sun exposure. Vitamin D3 helps support immune health and respiratory health. But it also helps promote the absorption of calcium.
Vitamin K2 (80mcg)
Vitamin K2 helps move calcium into your bones where, with the help of vitamin D3, it can do the most good.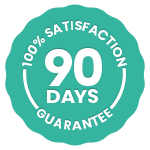 Our 100% Satisfaction Guarantee
Try it risk-free for 90 days and see how you feel. If you don't absolutely love it, you may return your product to us for a full refund of the purchase price, minus shipping and handling No questions asked.



Frequently Asked Questions:
Why is Vitamin K2 and Vitamin D3 effective together?
Calcium cannot do its job without vitamins D and K. Vitamins D3 and K2 work synergistically with calcium to support bone health and promote a healthy cardiovascular system.
How often do I use D3.K2 Complex?
What does D3.K2 Complex taste like?
Our D
3.K2
complex is a quick-dissolve cherry-flavored tab that melts in your mouth. No water required or huge pill to swallow!