Ingredient Highlights
Grape Flavor
150mg Grape Seed Extract | 500mcg Vitamin B12
Raw cane sugar, tapioca syrup, rice bran, natural flavors, sunflower lectin, sunflower oil, fruit and vegetable juice for color, malic acid, rice syrup solids, citric acid, glycerin, stevia leaf extract.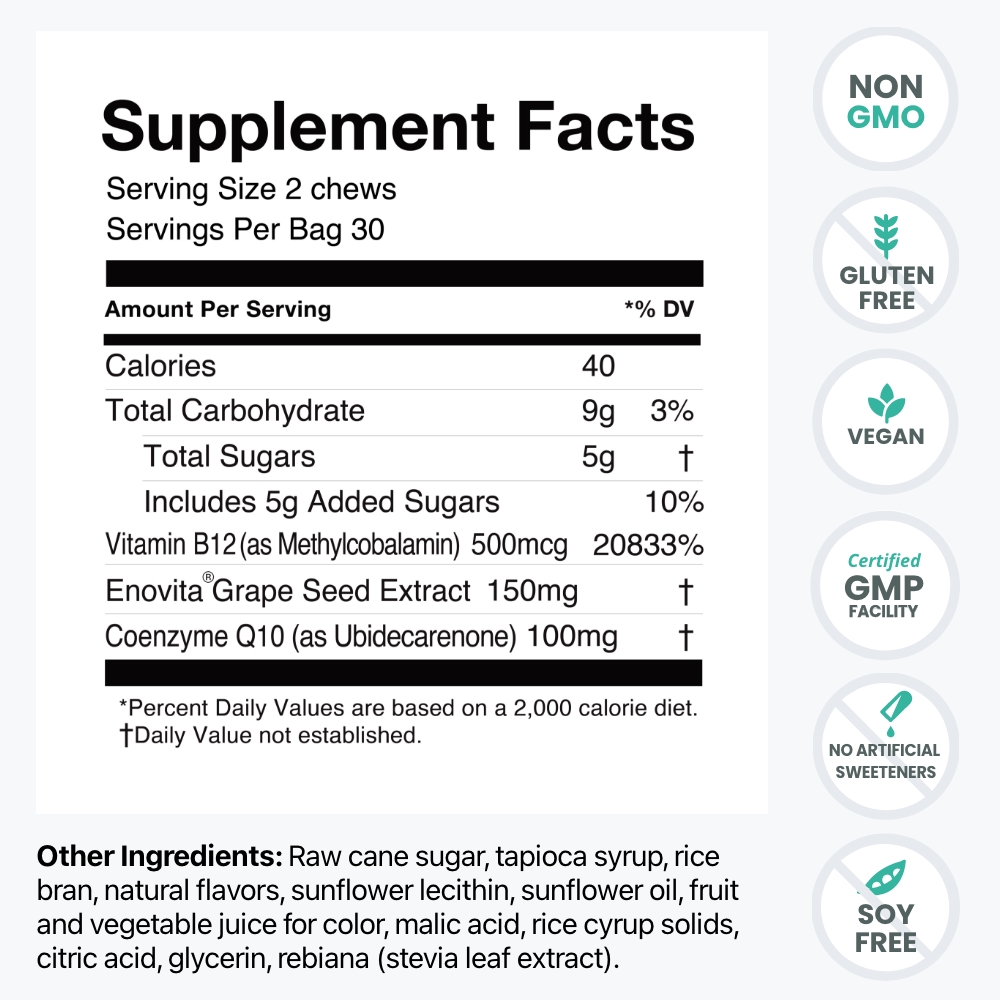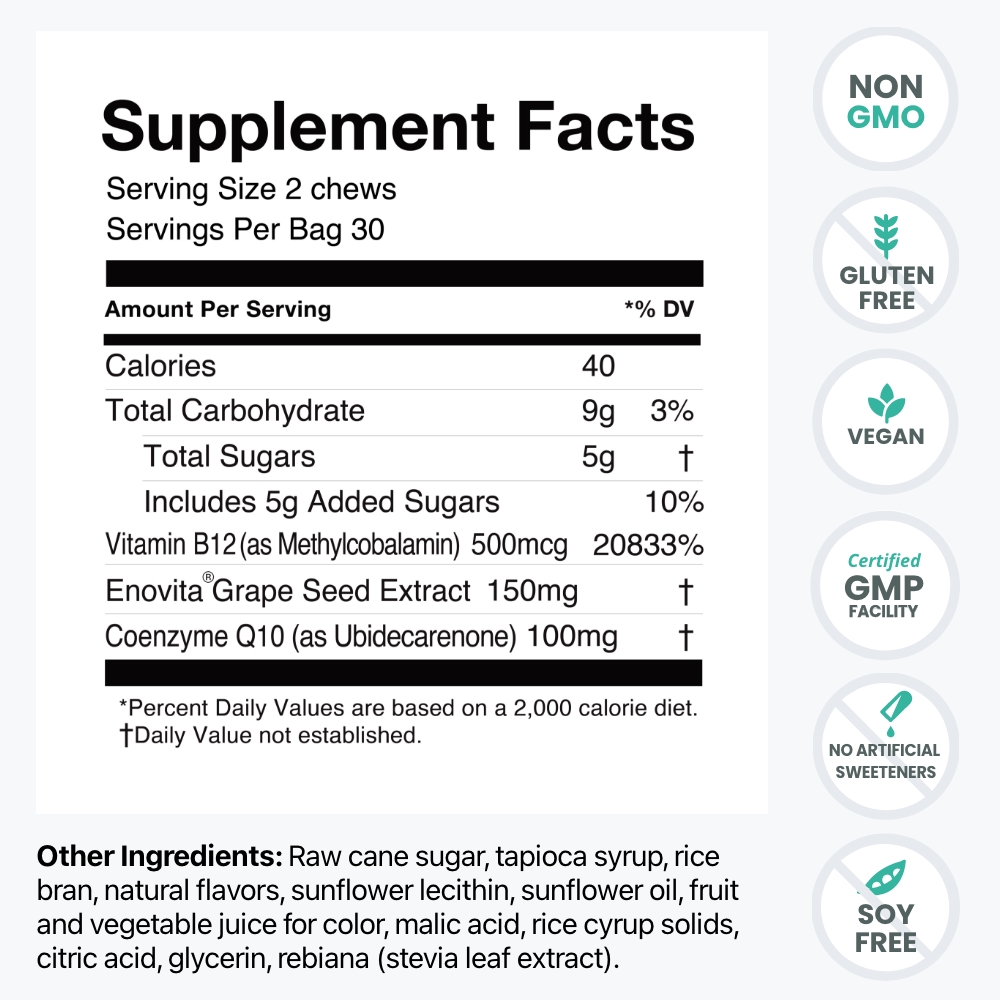 How It Works
4 Powerful Ways To Support Your Heart Health & Cellular Energy
Our clinically studied French Grape Seed Extract helps support healthy blood flow and has been shown to deliver nearly 2x more effective blood pressure support than a healthy lifestyle alone.*
Our CoQ10 helps your body generate 95% of the cellular energy your heart needs. By supporting healthy blood flow, our clinically studied grape seed extract helps your body produce more energy. Our active form Vitamin B12 helps deliver heart healthy metabolic energy.
Clinical research demonstrates that potent polyphenols such as those found in the unique grape seed extract in SuperGrapes support the body's production of Nitric Oxide.
Oxidative Stress from free radicals can reduce your body's ability to produce Nitric Oxide (N-O) and compromise your healthy N-O levels over time. Grape seed extract in SuperGrapes helps prevent the destruction of Nitric Oxide by free radicals.
Why is CoQ10 Essential to Your Heart Health?
Your heart is one of the most energy-hungry organs in your entire body. CoQ10 is the coenzyme your body uses to generate 95% of the cellular energy your heart needs. Unfortunately factors like age, stress, free radicals, and even cholesterol-lowering statins can all lead to a decline in your body's CoQ10 levels, which can leave you feeling fatigued.

That's why we've added 100mg CoQ10 to our already one-of-a-kind formula. SuperGrapes' powerful, fermented CoQ10 helps replenish this needed nutrient to support your cellular energy and vascular health.

Blood Pressure Support You Can Count On
What makes SuperGrapes antioxidants so different? The secret is in our grapes. Sourced exclusively from the Loire Valley in France, it's the soil, minerals and climate of this prestigious wine region that give our grapes their special potency. In a leading clinical study, our unique grape seed extract was shown to promote normal blood pressure nearly 2X more effectively than a healthy lifestyle alone. *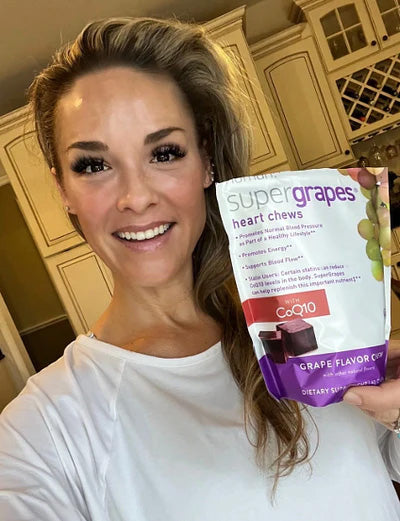 "I've been taking the SuperGrapes Chews for a few weeks and love them. First, they taste great! Second, they give me a nice energy boost (thanks B12!). I'm always impressed with the @livehumanproducts - add this one to my list!"
- Melissa M.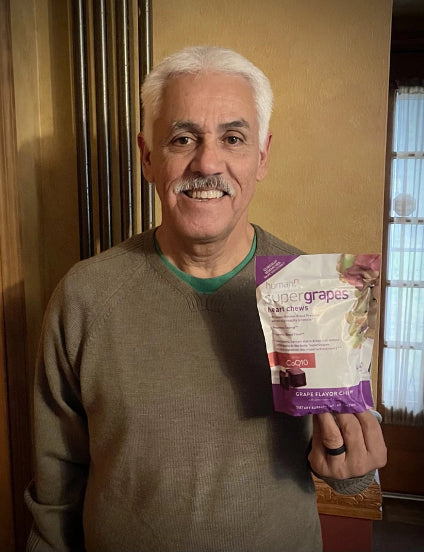 "I have heard a lot about CoQ10's health benefits and I'm excited to see the effects! So far I can say they taste great!"
- Adolio N.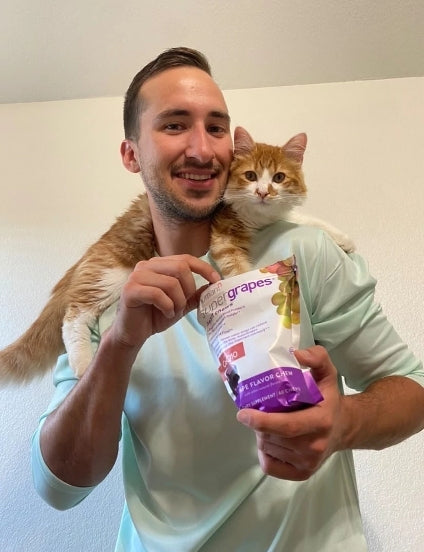 "SuperGrapes were a great addition to my heart-conscious regimen. Great taste and high-quality ingredients!10/10 would recommend!"
- Andrew M.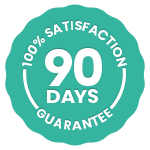 Our 100% Satisfaction Guarantee
Try it risk-free for 90 days and see how you feel. If you don't absolutely love it, you may return your product to us for a full refund of the purchase price, minus shipping and handling. No questions asked.



Frequently Asked Questions:
How does SuperGrapes differ from SuperBeets Heart Chews?
While both products feature clinically-researched grape seed extract, SuperGrapes provides additional heart health support with fermented CoQ10. The bioactive form of Vitamin B12 (methylcobalamin) is also included to promote energy. SuperGrapes provides comprehensive heart health support in addition to triple action energy support (heart healthy energy from blood flow, cellular energy, and metabolic energy).
What type of Vitamin B12 is in SuperGrapes?
SuperGrapes includes 500mcg of the active form of Vitamin B12 (methylcobalamin) to support metabolic energy and help your body more efficiently derive energy from the foods you consume.
What form of CoQ10 is used in SuperGrapes?
SuperGrapes includes CoQ10 in the form of Ubiquinone
Can I use SuperGrapes if I am already using SuperBeets Heart Chews?
Yes – SuperGrapes can be used in conjunction with SuperBeets Heart Chews for more comprehensive heart health and energy support
How much CoQ10 is in a serving of SuperGrapes?
There is 100mg of CoQ10 per serving (2-chews)
Is the CoQ10 in SuperGrapes from a vegan source?
Yes – the CoQ10 used is non-animal derived and is produced using a yeast fermentation process