Clinically Studied
A Game Changer for Inflammation and Joint Health Support
Inflammation is a key biomarker to overall health and wellness. At the basic level, inflammation can signal your body's response to an irritant, so important to support your body's ability to have a healthy inflammatory response. The science is clear – Turmeric has real power.
3 Reasons Why You Will Love Our Turmeric Chews
24x times higher absorption vs. your standard turmeric pill
Due to the low natural absorption of turmeric into your bloodstream, you could be wasting time and money on standard turmeric extracts that are not backed by clinical research. We harnessed the science of a clinically studied, enhanced turmeric-curcumin complex which is the first of its kind to show 24x higher absorption compared to standard turmeric extracts.
4x More Concentrated
Each single serving chew provides 300mg of  TurmiPure® Gold turmeric extract to support a healthy inflammatory response and joint health. An unmatched low dose compared to the typical 1922mg of standard turmeric extract.
Turmeric Has Never Tasted This Good
Unlike your standard turmeric supplements that may have a bitter, peppery aftertaste, our Turmeric Chews have a mouth-watering orange citrus flavor. You'll actually look forward to taking it every day.
"These seriously taste like candy. I genuinely look forward to eating them! The citrus flavor is awesome and I love that they are packed with Turmeric-Curcumin!"
- Cali S.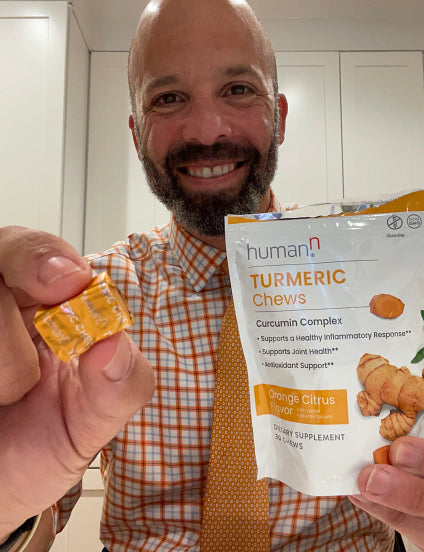 "These Turmeric Chews are awesome. Joint health is critical for me as I put my body through the paces regularly in the gym and out on the road/trails. So happy HumanN released something to help address this key part of my overall health picture. Also, they taste really great!"
- Jon Ross W.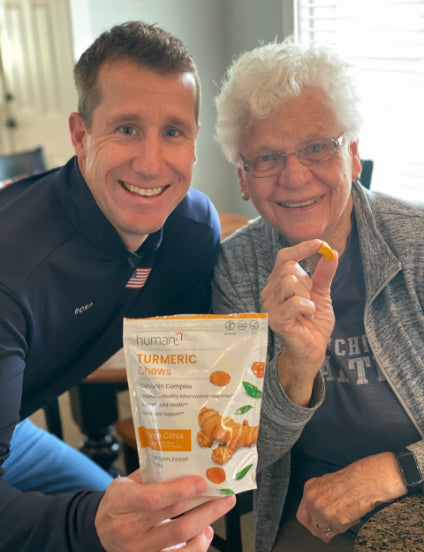 "The new Turmeric chews taste amazing!  I'm excited that HumanN has a product that tastes great and provides the benefits I need supporting my joint health."
- Hunter Kemper
TurmiPure Gold: Clinically Shown to Promote Greater Absorption
Absorption is Key for Turmeric Curcumin Supplements.
When it comes to turmeric, there's one powerful, clinically studied ingredient you need to know: TurmiPure Gold. Scientists observed that a single dose of only 300mg TurmiPure Gold®, the same dose in our Turmeric Chews, promotes greater absorption to the bloodstream than other standard turmeric extracts. TurmiPure Gold is the next generation of turmeric and helps your body absorb the curcuminoids for a healthy inflammatory response and joint health support.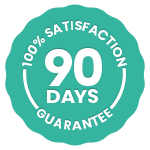 Our 100% Satisfaction Guarantee
Try it risk-free for 90 days and see how you feel. If you don't absolutely love it, you may return your product to us for a full refund of the purchase price, minus shipping and handling. No questions asked.



Frequently Asked Questions:
How many Turmeric Chews can I consume per day?
A daily serving is one (1) chew per day. Do not exceed more than two (2) chews per day
When should I use this product?
You can use this product in the morning, afternoon, or evening. There is no specific time to take turmeric, but you will maximize its benefits by taking it consistently. Find a time that works best for you to take it regularly.
Who is this product intended for?
This product is for any adult who is looking to support joint health with plant-based, clinically-researched turmeric. This unique formulation also offers support for a healthy inflammatory response.
Is this product vegan?
Yes. Our Turmeric Chews are vegan as they do not contain any animal ingredients.
Why doesn't this product contain black pepper extract?
The novel turmeric extract used in our Turmeric Chews has been clinically studied to show higher bioavailability than standard turmeric preparations standardized to 95% curcuminoids that use black pepper extract.
Where is your turmeric sourced from?
The novel turmeric extract used in Turmeric Chews is sustainably harvested from its native region in southern India, grown in accordance with clean agricultural practices with full traceability.
I have experienced a sticky texture with some of the Turmeric Chews. What should I do?
We recommend that you store your bag of Turmeric Chews in a cool place such as your refrigerator to reduce any texture stickiness you may be experiencing. Rest assure there is no impact to efficacy or functionality.