Key Ingredients
Berry Flavor
Non-GMO beetroot juice powder, natural flavors, malic acid, magnesium ascorbate, Enovita Grape Seed Extract, green tea extract, rebaudioside A (from Stevia rebaudiana Leaf)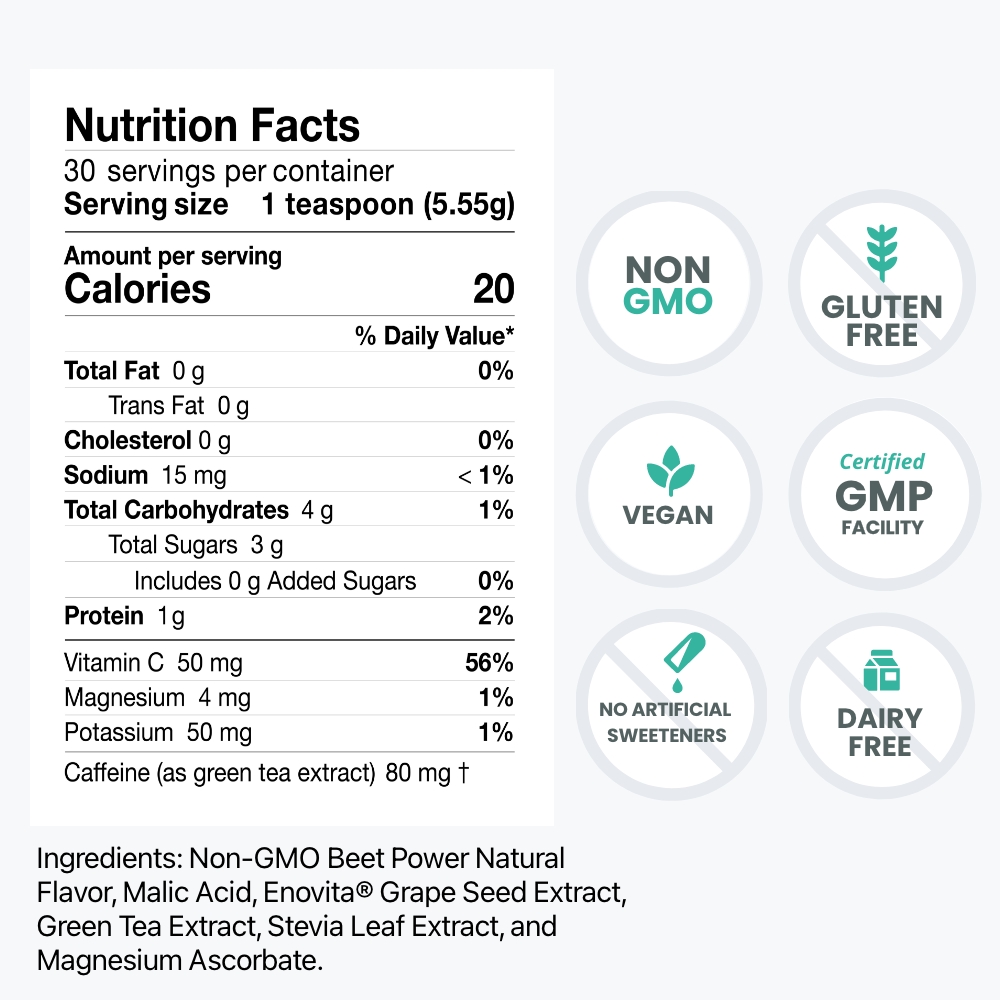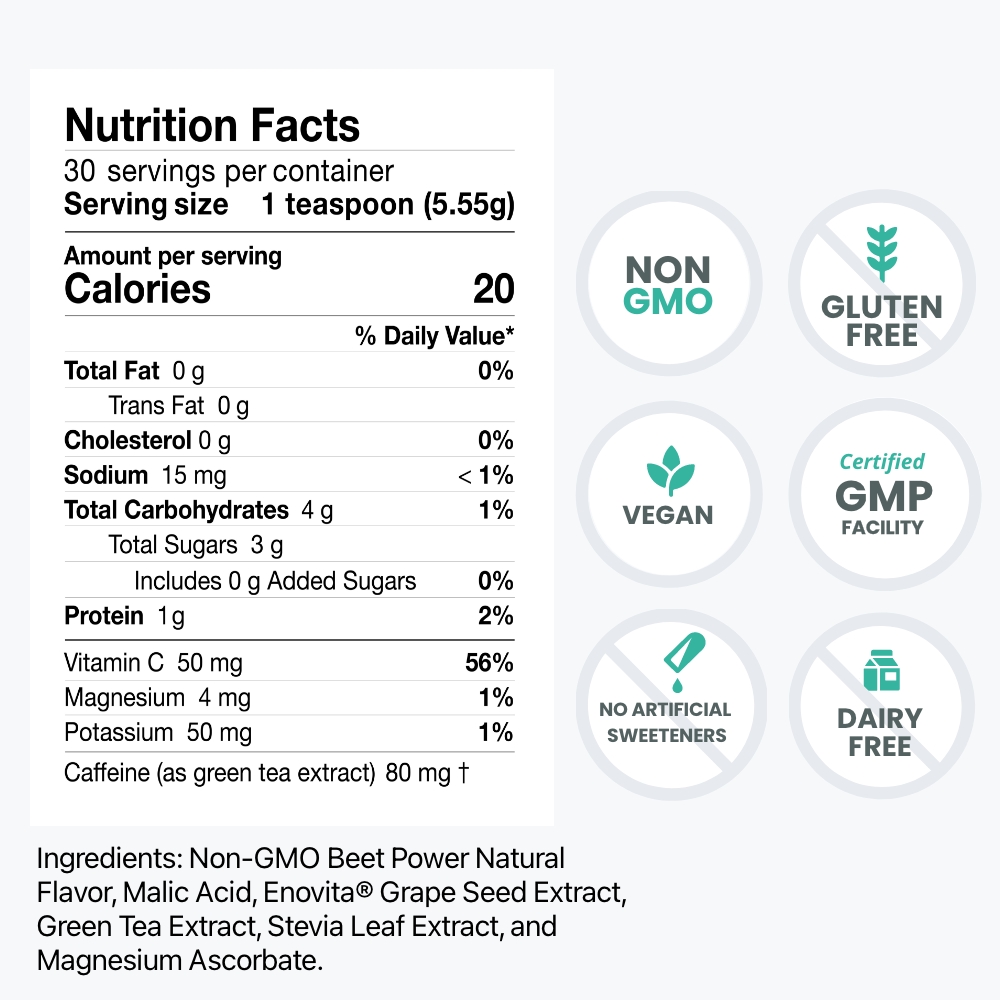 Green Tea Extract
80mg of plant-based caffeine per serving from green tea extract for a boost of smooth energy without the crash or jitters that can come from synthetic caffeine. 
French Grape Seed Extract
There's good, then there's premium. And the Enovita® grape seed extract we selected for SuperBeets Energy Plus is the finest in the world. Sourced from the world-famous winemaking region in France, the Loire Valley, this novel form of grape seed extract has been clinically studied and shown to support  the body's production of Nitric Oxide, heart health, normal blood pressure as part of a heathy lifestyle, and helps reduce oxidative stress and damage.
Non-GMO Beets Grown in the USA
SuperBeets Energy Plus provides an added boost from non-GMO beets to support cardiovascular health.
Vitamin C
SuperBeets Energy Plus  provides an excellent source of Vitamin C with 56% DV per serving. Vitamin C provides important antioxidant protection.  
Smooth Energy Without the Crash
Not all forms of energy are good for you. We all know about the traditional pick-me-ups that we use for a boost—sugary energy drinks and overstimulating pre-workouts—and we've all experienced the feeling that comes soon after, leaving you tired and spent. There's a better way to get the energy you need that is plant-based.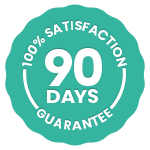 Our 100% Satisfaction Guarantee
Try it risk-free for 90 days and see how you feel. If you don't absolutely love it, you may return your product to us for a full refund of the purchase price, minus shipping and handling. No questions asked.
Frequently Asked Questions:
Can this be combined with other HumanN products?
Yes
.
We recommend taking this product along with SuperBeets Crystals
(Black Cherry or Original Apple)
or SuperBeets Heart Chews for heart health and blood circulation support. As always, speak with your physician if you have medical concerns.
How much caffeine is in SuperBeets Energy Plus?
There is 80mg of caffeine derived from green tea extract in each serving.
How is this different from other products with caffeine like coffee or soda?
SuperBeets Energy Plus provides a plant-based source of caffeine from green tea extract that helps promote improved energy and mental focus
rather than synthetic caffeine found in many sodas
and energy drinks
.
How long will one canister last me?
One canister
contains approximately 30-servings, or 1-month of product.
What's the best way to take this product?
1
concentrated
scoop in
4-
6 ounces of water used daily for best results.
1 According to IQVIA ProVoice Survey 2023