Are Your Nitric Oxide Levels Depleted?
Our Nitric Oxide Indicator Strips are a simple way to see if you're getting enough dietary nitrate through the foods that you eat. For many of us, getting enough of the good stuff through our diet is difficult and for others, the enzyme needed to convert our dietary nutrients into Nitric Oxide simply is no longer present.
With our Nitric Oxide Indicator Strips can give you an indication of whether your diet is lacking and if you body is Nitric Oxide deficient. Non-invasive, the results are instant and easy to read. Which means getting your Nitric Oxide status is a snap.

These Nitric Oxide Indicator Strips are Really Cool
"I'd heard of Nitric Oxide, but I never understood its importance until later in my career. I learned that your N-O levels can decline with age, so you start to feel slower and get tired more quickly.

These Nitric Oxide indicator strips are really cool. They let you measure your levels to know when your levels are optimal.Ӡ
Hunter Kemper | 4x Olympian, World Champion Athlete
Hunter Kemper | 4x Olympian, World Champion Athlete
Know Your Nitric Oxide Levels in 3 Simple Steps
Our Nitric Oxide Indicator Strips capture a simple and non-invasive saliva sample to determine the concentration of nitrite in your saliva. To see the latest research on why your saliva may hold the key to understanding the importance of your Nitric Oxide levels

1.
During the morning before you drink or eat, wash your hands and gather saliva on your fingertip.
2.
Place the saliva on the indicator srtip pad. Don't put the strip in your mouth.
3.
Compare your results to the color chart provided. The lighter pink, the more Nitric Oxide deficient you are.
Frequently Asked Questions:
How many times can I use a Nitric Oxide Strip?
Our Nitric Oxide Indicator Strips can only be used once. Re-using an Indicator Strip will result in an inaccurate reading.
What exactly is measured by the Nitric Oxide Indicator Strip?
We know that once nitric oxide is produced by the endothelial cells or other cells in the body, it is oxidized to nitrite and nitrate. The Nitric Oxide Diagnostics® Indicator Strips 
measure the amount of nitric oxide that is recirculated through the saliva
. This measure represents the total systemic bioavailability of nitric oxide in your body at that time.
How often should I use the Nitric Oxide Indicator Strips?
We recommend using every day when you first begin taking Neo40®. This will help you track your nitric oxide restoration process. You can also use before and after intense physical exercise or at a set time each day. Monitoring your nitric oxide levels before and after taking your nitric oxide supplements will allow you to see the change. But do wait at least 15-30 minutes after taking a Neo40® tab before use.
My indicator strip continues to show "low" - is it not working?
The following can adversely affect the accuracy of the indicator strips:

- Taking antibiotics
- Using mouthwash
- Testing when your saliva is diluted

There are also some people who do not have the proper bacteria in their mouth or their stomach to support nitric oxide repletion. If you continue to test "low" after using Neo40 or SuperBeets Crystals for the recommended 30-45 day restoration phase, you are likely one of these people.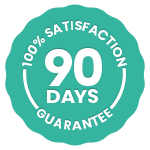 Our 100% Satifstaction Guarantee
Try it risk-free for 90 days and see how you feel. If you don't absolutely love it, you may return your product to us for a full refund of the purchase price, minus shipping and handling. No questions asked.


These statements have not been evaluated by the FDA. This product is not intended to diagnose, treat, cure or prevent any disease.
†Real SuperBeets user. Remunerated brand ambassador. Results not typical. SuperBeets helps support healthy energy and cardiovascular health.